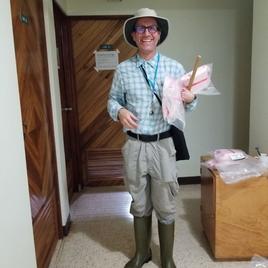 Quinn S. McFrederick
Assistant Professor
2010 Ph.D., Summer 2010. University of Virginia, Biology (Douglas R. Taylor, advisor).
2004 M.A., San Francisco State University, Conservation Biology (Gretchen LeBuhn, advisor)
1992 B.A., University of California, Berkeley, Integrative Biology
Research Areas
Symbiosis, bee biology, microbiology.
Courses Taught
Biol 002 The cellular basis of life
ENTM 202 Insect Morphology
ENTM/MCBL 139 Conflict and cooperation
Contact Information
Entomology
Graduate Program in Microbiology
Institute for Integrative Genome Biology
ENTM 268
(951) 827-5817
Dr. McFrederick studies symbionts (pathogens, commensals, and mutualists) of wild and solitary  bees, with the goal of  leveraging these symbionts to protect bee populations and communities.
Awards Received
2017 Hellman Fellowship
2016 Outstanding Faculty Award from the UCR Entomology Graduate Student Association.
2010 Award for Excellence in Scholarship in the Sciences from the Vice-President for Research, University of Virginia.  The award recognizes "excellence in original scholarship by Ph.D. students at the University" 
2010 Graduate Teaching Assistant Award from the Department of Biology, University of Virginia